Here are more of our Facebook pages. These pages are largely collections of links to news articles organized topically.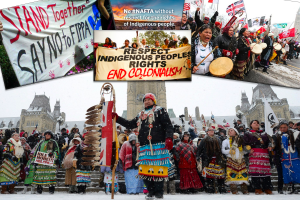 Advisory: Ottawa Event and Media Availability – Indigenous Rights, the Environment, and "Free Trade" Agreements | MiningWatch Canada ... See MoreSee Less
Load more
"Why don't residential school survivors just get over it?" Senator Murray Sinclair's reply. ... See MoreSee Less
Wish It was the easy, To just step Over Childhood Trauma of Abuse PTS and get over it and get on with my life and be the real person I was meant to be. But it will never happen. You don't get over it ..But learn to live with it... Does Senator Murray Sinclair ..Think, We choose to Carry That Heavy Burden, of PST and The Guilt, we were made to feel, For just for being Born. Evidently, Like so many of the politicians and So called, elected officials Like Murray Sinclair, Does not have the Ability for understanding , Lacks, compassion, Has a Over paying Job and has never seen a bad or hungry day in his life, At our expense, Well good for him.
Photos from Indigenous Education Initiatives - Superior Greenstone DSB's post ... See MoreSee Less
'It's time' Ontario regional chief says of establishing a First Nations university | CBC News ... See MoreSee Less
Pope Francis won't apologize for abusive church-run schools in Canada, and lawmakers aren't happy ... See MoreSee Less
He wasn't even the pope while this was going on.The responsability is ours God help Canada
needs a good dose of humility and compassion
I'm grossed out that I was baptized/wasted my years as a altar server/and learning their way, at the Catholic Church.
Load more